Water Resources of Florida
The mission of the Water Discipline, which supports the overall mission of the U.S. Department of the Interior and the U.S. Geological Survey, is to provide the hydrologic information and understanding needed for the best use and management of the Nation's water resources for the benefit of the people of the United States.
USGS Florida Science Highlights
The USGS Caribbean-Florida Water Science Center Strategic Science Plan 2017-2027: A blueprint for USGS contributions to water resource science in Florida, Puerto Rico, and the US Virgin Islands
Collection of water quality samples.
The USGS Caribbean-Florida Water Science Center serves an area that includes Florida, Puerto Rico, and the US Virgin Islands. The Strategic Science Plan discusses Center activities and research, which are aligned with four programmatic areas of the USGS Water Mission area: Water Availability and Use, Groundwater and Streamflow Information, National Water Quality, and Water Resources Research Institutes. Priority issues for current and future work are guided by the concept of water security, and the needs of water managers, government agencies, and other non-governmental groups.
To learn more about the USGS Caribbean-Florida Water Science Center Strategic Science Plan go to Science Plan page.
Florida Water Watch
Map of real-time streamflow compared to historical streamflow for the day of the year
| | |
| --- | --- |
| | WaterWatch is a U.S. Geological Survey (USGS) website that displays maps, graphs, and tables describing real-time, recent, and past streamflow conditions for the United States. The real-time information generally is updated on an hourly basis. WaterWatch provides streamgage-based maps that show the location of long-term (30 years or more) USGS streamgages; use colors to represent streamflow conditions compared to historical streamflow. Click here for more information |
Recent Newsletters for the Florida Water Science Center
The USGS Caribbean-Florida Water Science Center (CFWSC) Newsletter offers information about recent activities of the CFWSC. The CFWSC has more than 130 scientists, technicians, and support personnel in five offices that collect, interpret, and publish water-resource information for the State and the Nation. Each issue of the newsletter will highlight important hydrologic events and significant scientific projects and achievements by CFWSC staff.
Most recent CFWSC Newsletter: Winter 2017
Gages Remain Unfunded

Budget shortfalls at all levels of government continue to cause reductions in the amount of hydrologic data collected by the USGS. Please visit the USGS Threatened and Endangered Stations website to view a map of all threatened, endangered, or recently discontinued stations. Although historic data for these sites will remain accessible through NWISWeb, no new data will be collected by the USGS. For some sites, data collection has been taken over by other agencies and new data may be available through them.
Florida Weather
Recent Publications
View our recent publications.
USGS WaterAlert and NWIS Mapper
The USGS WaterAlert service sends e-mail or text messages when certain parameters measured by a USGS water-monitoring site exceed user-definable thresholds.
You can subscribe to Florida water-monitoring sites and be alerted when high water hits.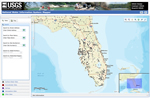 The USGS provides current ("real-time") stream stage and streamflow, water-quality, and groundwater levels for sites in Florida. The NWIS Mapper is available to display active and historical station locations with links to their available data.
SOFIA
Access to information about USGS science in south Florida
South Florida Information Access (SOFIA) is an interdisciplinary service that provides coherent information access in support of research, decision making, and resource management for the South Florida ecosystem restoration effort. Sponsored by the USGS Priority Ecosystems Science Initiative (PES, formerly the USGS Place-Based Studies Program (PBS)), SOFIA offers a suite of information systems and tools enabling the selection, organization, documentation, dissemination and storage of data and other information products